In the pandemic, many learned to appreciate the benefits of home office. However, a portal in the USA is now driving them to the top – and helping to accommodate two jobs in a normal working week.
Get up later, no commuting stress and after lunch with the family can get back on your own couch: The home office offers some advantages over the classic office. And also that the boss does not always look over his shoulder, many of the home workers appreciate. However, some take this advantage to the extreme-and work for two companies at the same time during regular office hours.
"It's two jobs in one, "reports an anonymous programmer from the US to the"Wall Street Journal". He worked at a media company and had previously managed to do his actual work in three to ten hours a week. "The rest consists of being present at meetings and seeming busy," he explains his decision to take on a second full-time job at an event company since June.
Two jobs, two salaries

He's not alone. The business newspaper managed to find several people who, thanks to home office, managed to get two full-time jobs under one roof. And that without necessarily having to work more: according to their own information, even in two jobs, many would not spend more than 40 hours a week working, they told the "Journal". Nevertheless, the respondents would usually have collected between 200.000 and 500.000 dollars a year for the two jobs. However, some would have worked 100 hours a week.
The double life is made possible by the advantages of the home office. While in the past it would have been almost impossible to have several meetings in one day in two different companies, video conferencing from home is no longer a problem. They would play Tetris in the calendar to coordinate the appointments of the two jobs, reported the secret second jobbers. If it were tough, you would have to be in two dates at the same time. As long as you only have to be present, this is not a problem. Should a project take more time, you can still take time off in the other job.
Why cancel?

Most slip into the second job rather accidentally. For example, an employee had been looking for a new job after his company was terminated. He applied for a job, got it too. When he wanted to quit, he thought to himself: why? And just kept the second job on the side. For others, the scam has long since become a strategy. Once accidentally juggled two jobs, you realize: this works. And are now looking specifically for a second job, if it does not go on with one.
When she was brought back to the office, an employee who had previously worked in parallel for an insurance company and a telecommunications company quit. And quickly replaced the job with another second job. "I am now at an advantage," she is convinced. Meanwhile, an assistant helps her manage the appointments between jobs, takes phone calls to be able to warn her when she is required. "Am I trying to be a top employee? Not really. I do each of the jobs just so I don't get terminated," she admits.
Tips from the experts

The attitude seems to exist with many of the double employees. They had the feeling that the company demanded loyalty, but did not offer it to the employees, according to the impression of the "WSJ"authors. "When the going gets tough, you're just one of many," believes one. "They say we have a free market. I'm just making sure I get my share."
Together with a friend, he set up a page that gives other tips on how to keep the other job secret from the respective employer. So he quickly realized that you can simply refuse appointment requests-without any consequences. If you are in a meeting, you should also speak up. And be it with a repetition of something previously said in other words. Of course, you have to be careful to mute yourself in time for the second meeting. And of course, you should always have an excuse why you had to leave the meeting quickly if you have to talk in the other. Also important: you should not be too ambitious and prefer to remain inconspicuous. After all, you do not want to be promoted unnecessarily.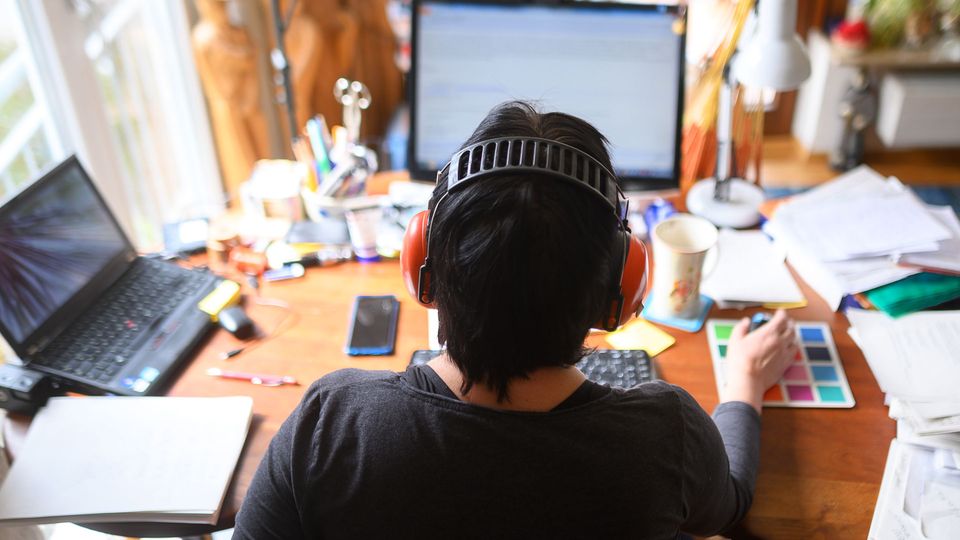 The fear in the neck

In fact, all respondents had already developed similar strategies themselves, the "WSJ"found. Ideally, you work on two laptops, adjust the windows color to always know the same for which job you are currently working. "You have to physically switch back and forth, which trains the head so that it always knows whether you are currently in Job 1 or Job 2," advises one of the double jobbers. It will be easier in the long run. "I can hear and process two things at the same time much better than I used to."It is also helpful to refer to chat tools such as Slack instead of making calls or arranging a digital meeting. "People then think: He gets something baked instead of wasting time in meetings."
Of course, double life leads to a constant fear of being caught. Anecdotes in which it was scarce, many would have had to tell, according to the report. Sometimes a microphone was open and for a few seconds the participants of one meeting could have heard the parallel second, sometimes there was trouble because too much work had remained unfinished. "You think every day: today they catch me," confesses one respondent of his paranoia.
Breach of contract instead of crime

This does not necessarily threaten legal consequences. In the US, as in this country, working in two jobs at the same time is not prohibited in principle, it is a question of the employment contract whether you have to get a permit from the employer. In the US, even then, at most, labor penalties would threaten, a lawyer told the newspaper. In Germany, additional problems could be caused by the Working Time Act.
In fact, some employers notice when one of the employees plays a double game. Chris Hansen reports, for example, that during his time at a start-up, a freelance developer was always difficult to reach and did not show up at meetings. At some point, it turned out that he had simply continued his previous job, instead of resigning as agreed. Hansen decided not to report him. He understood that the freelancer did not want to fully decide for the company without job security. "What incentive do you have to be honest? There is simply no loyalty between the employee and the employer."
Source:Wall Street Journal
mma